VHC Series
Our variable height channel is compatible with any hospital environment, making it a solution for even the toughest of areas.
Range of Motion
The Variable Height Channel (VHC™) delivers a flexible, height-adjustable point of care workstation. The VHC can be configured with a full range of off-the-shelf GCX arms to achieve a flush wall mount workstation or one that fully articulates out from the wall for greater caregiver-patient interaction. As your computer hardware or application needs change, the ergonomic workstation is easily modified to hold new equipment securely.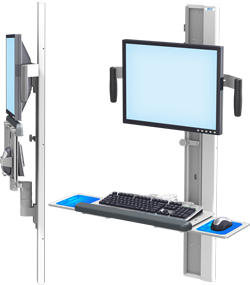 Compact
The VHC is designed specifically for use in space-constrained healthcare settings. Protruding outward from the wall as little as 4″/10cm, the VHC is an ideal solution for hallways, exam rooms and emergency departments.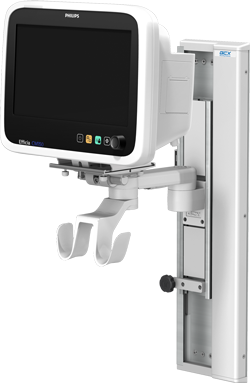 Compatibility
The VHC accommodates virtually any medical device or piece of computer hardware, and is available in a variety of sizes to fit your particular clinical area. Its compatibility with all GCX mounting arms and channel-mounted accessories. along with its integrated cable management features, ensure an orderly workspace with maximum cleanability.